5 tips for how you get the most out of your baby carrier
A new family member means uncountable moments of joy and endless love. However, it also comes with a lack of sleep, many cups of cold coffee, and constantly feeling the need for an extra arm or two. We've gathered a few tips for how a baby carrier can make your life as a new parent easier and how you get the most out of it
4 min read
Written by BeSafe Carrier Expert
– Scandinavian safety
1. Different baby carriers are right for different families
Tips from friends and family are great, but everyone is different. Consider how you think you want to carry and how much. A carrier specially designed for newborns is optimal if you think you will carry the baby mostly until they are about 6-12 months old. Some carriers can also handle different carrying options, such as carrying the baby inward or outward on the front of your body, and when the baby gets older, you can use the harness to carry them on your back. A carrier of that type will obviously have an even longer use time.
Also consider if you want a softer, more flexible carrier (nice if you carry a lot indoors and a smaller baby) or if it is more important that it has a sturdier and more stable material (important if you are very active or think you will be able to carry an older baby). Consider your needs and let them guide you to what is right for you.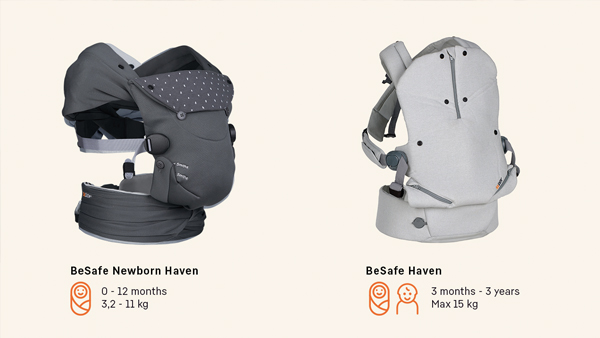 2. Use a baby carrier both indoors and outdoors
This might sound a bit too obvious, but we can't highlight the benefits of using a baby carrier enough. Carrying your baby means having your little one cuddled up in a safe place. At the same time, you have both hands free for household activities, hands-free shopping, walking the dog, or any other activities.
Besides the practical aspect, carrying your baby also means together time, lots of oxytocin (also known as "happiness hormone") and even support healthy hip development.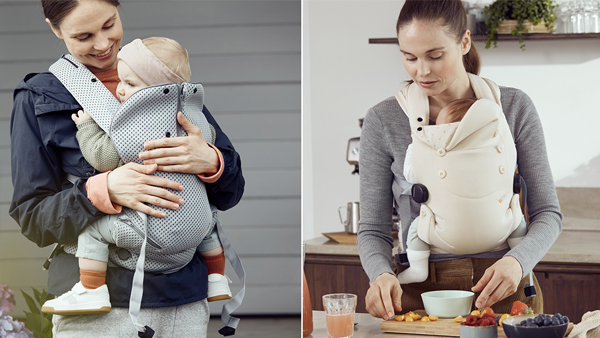 3. Use a Mesh carrier for more comfort during summer
You want to be active with your child – maybe do a small workout routine – or simply need a solution for the warmer months of the year? Then we recommend using a Mesh carrier.
The BeSafe Haven™ baby carrier is available in an innovative 3D mesh fabric, which supports great airflow and transports moisture away from your child.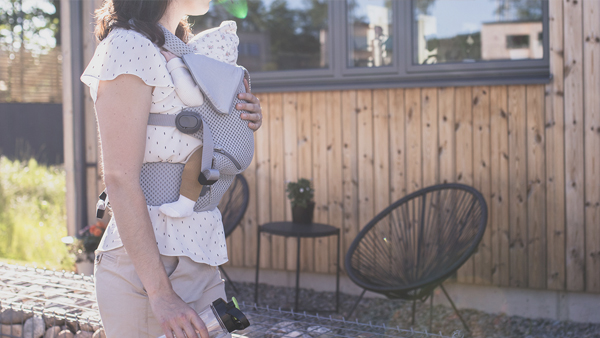 4. Can I use a baby carrier during winter?
Can you carry your baby outside during winter? Absolutely! It might even be a good alternative to pushing a stroller through the snow. When using a baby carrier in cold temperatures, we recommend carrying your baby inside your coat. This is easily possible with a maternity coat, a coat that's a bit larger than your regular size, or with a special pouch that can be zipped or buttoned onto the front of a coat.
Underneath the coat, it might be a good idea to use layers of clothing. Wool is a great material to use, as it helps to regulate a baby's temperature. Protect your little one's head with a hood or knitted cap and check their temperature by feeling the neck regularly.
Note: Puffy clothing should be avoided, as it gets compressed in the carrier and thus not keeping the warmth so good.
5. Make sure you put the baby carrier on correctly for optimal comfort
We know some of you might think that reading the manual is boring but sometimes it can be very helpful. Baby carriers are very different and almost all of them have different instructions for how to put them on correctly. If you use the wrong settings, like wearing the waist belt too low, the comfort and safety might not be optimal. So have a quick look in the manual or look up an instruction video of your carrier online.
When using BeSafe Haven™ on the front, the shoulder straps should be crossed on the back. Check the user manual for putting on your baby carrier correctly.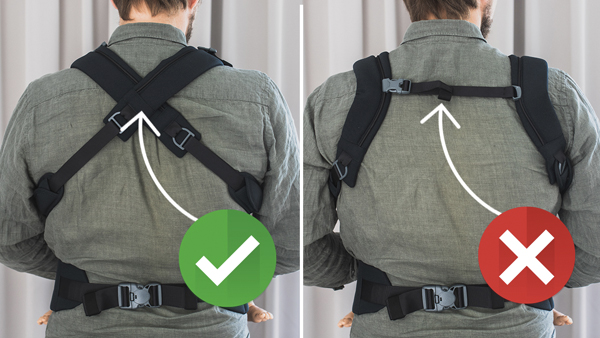 Written by BeSafe Carrier Expert
– Scandinavian safety
More from Preggers
Read popular and relevant articles.