How to prepare for driving home from the maternity ward
Are you going to be parents for the first time? In this article, we have collected our best tips for preparing for the first trip you will take with your baby.
5 min read
Written by BeSafe Car Seat Expert
– Scandinavian safety
1. Practice installing the baby car seat in the car before the child is born
You have probably already chosen a baby car seat by now – but if not, you can read more about BeSafe's baby car seats here. BeSafe's baby car seats have two installation options. The first option is with an ISOfix base. This is an easy and flexible option that saves time every time you get in and out of the car. Alternative two is to belt the baby car seat with the car's 3-point belt. Both options are equally safe if everything is done correctly. Whatever you choose, we recommend that you practice the installation before the baby comes so you feel safe with how to do it when you leave the hospital. Remember to always turn off the airbag if you install the baby car seat in the front seat of the car!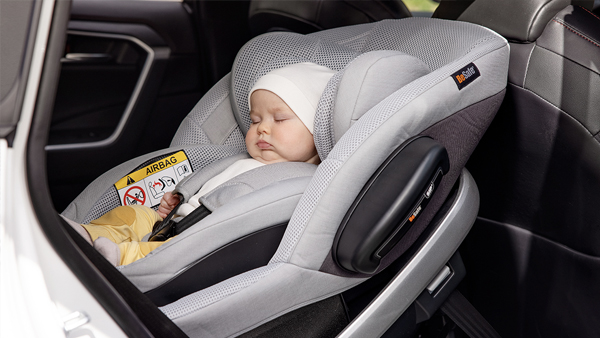 2. Plan what the baby should wear when leaving the hospital
If your baby is due during the colder months of the year, it might be good to plan what the baby should wear when leaving the hospital. Babies should never wear thick outerwear in their baby car seats. Rather let them wear regular clothes and use a footmuff (adapted to be used in baby car seats without compromising on safety). Footmuffs are available in different variants, we recommend the crash-tested Voksi® Move or Voksi® Explorer during the winter months and under the warmer months Voksi® Breeze Light.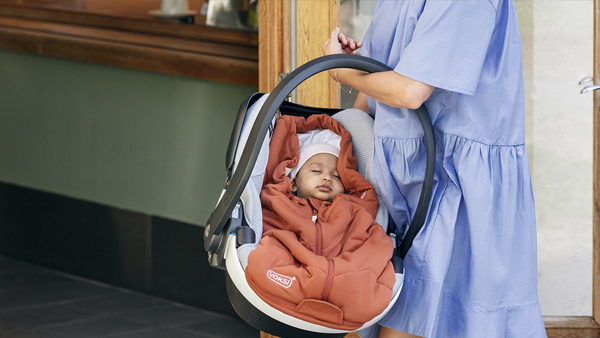 3. How to place and fasten the baby correctly
If you have a baby car seat with belt magnets, start by releasing and loosening the belts of the seats completely, open up the buckle and hang the belts onto the magnets, so that you have plenty of free space to place your baby in.

First tighten the hip belts by pulling the shoulder belts upwards. Then pull the central belt strap straight outwards to tighten the shoulder belts. While tightening, use your other hand to keep the shoulder belts close together, so that they cannot slip off the newborn's shoulders. The seat belt should be tight over the baby's chest, and you should not be able to fit more than one finger between the seat belt and the baby (1 cm).

Fasten the seat belts tightly! It is more dangerous if the child is too loose if an accident occurs. A padded 5-point belt is the best, it stabilizes the baby and keeps them safe.
4. Adjust the baby car seat to fit your child
All children are different, and therefore we at BeSafe have developed baby car seats that adapt as your baby grows. For example, if you use our BeSafe iZi Go Modular i-Size, some children don't need the extra head cushions when they are newborns or can only use them for a few weeks/months while others have them for several months. Certainly, remove the cushion inserts on both sides of the headrest when the child is older than approx. 3 months or if the head is not fitting between them comfortably anymore. These cushion inserts can be removed by opening the velcro on the back of each headrest side. Remove the baby cushion (bottom part) when the child is taller than 60 cm, or over 4 months. Remove the baby cushion (bottom part) and body hugger (upper part) when the child is taller than 65 cm, or over 6 months. Also, remember that you can raise the seat belts as the child grows and they should always be at 90 degrees in relation to the child's shoulders. But remember, as all children are different, these numbers are all just approximate – adapt to your child so it's as comfortable and safe as possible.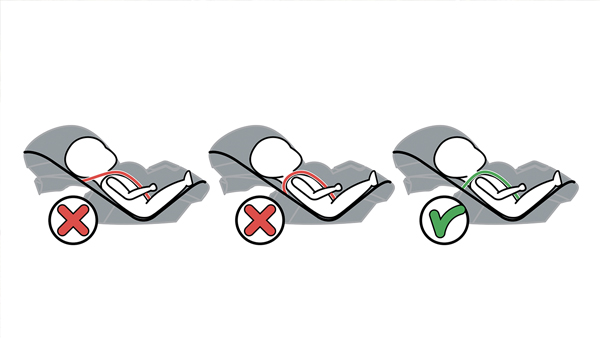 5. How long will a baby be able to sit in their baby car seat?
One question we often get is how often to stop and let the baby take a break from sitting in the baby car seat. Newborn babies should not sit for more than approx. 1 hour in a baby car seat, older babies not more than approx 1 1/2 – 2 hours to avoid them sitting in the same curved position for too long, as their muscles are not fully developed yet. If you are unsure about your specific situation, we recommend you always consult with your midwife.
6. Use your baby car seat with a Travel System
You can easily turn most baby car seats into a Travel System by using adapters that allow you to click the baby car seat onto your pushchair chassis. To find out which adapter fits your pushchair, please contact your pushchair manufacturer. A Travel System can make everyday life easier during the child's first months, allowing you to hop in and out of the car when running errands without having to move them between the car and the pushchair. But do of course keep in mind not to keep them in the baby car seat for too long – a Travel System should not replace a pushchair!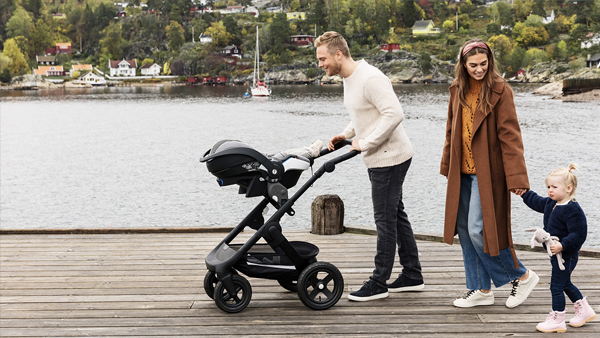 Thanks to these 6 tips, we hope you feel more secure and prepare for your first tip with your baby.
Written by BeSafe Car Seat Expert
– Scandinavian safety
More from Preggers
Read popular and relevant articles.