Best pregnancy app for expectant parents?
Preggers is a complete pregnancy app that guides you through your entire pregnancy journey - from the positive pregnancy test to the first years of parenthood. By using the Preggers pregnancy app, you can access information about each week of pregnancy, checklists, informative articles, as well as name suggestions, pregnancy-safe workout routines, and pelvic floor exercises - all to help ease your journey as an expectant parent.
2 min read
Verified by Eeva Itkonen
Certified professional doula, midwife & nurse
Share your pregnancy journey
Invite your family and friends to follow your pregnancy and the first years with your baby. Share your experiences, photos, and milestones with your loved ones. It's easy to keep everyone updated with the Preggers Pregnancy and Baby app.
Pregnancy app with fruits
Discover the world's best 3D experience of your baby's development and stay updated on what's happening week by week in your pregnancy. Each week is visualised with cute fruits, animals, and objects.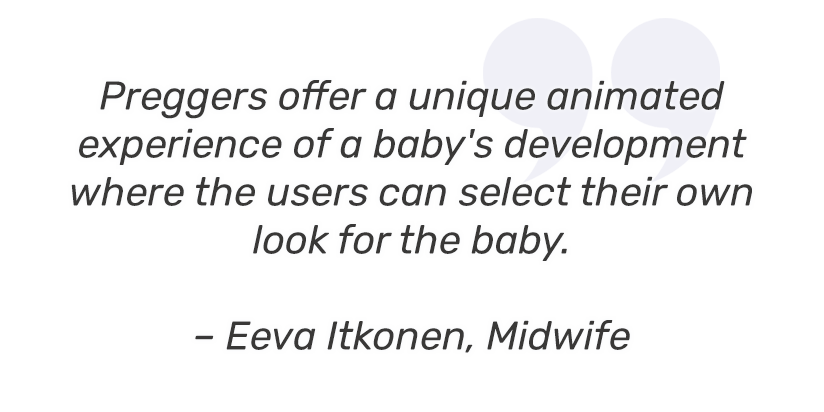 Smart tools
By using smart tools and linking accounts, you can create shared name lists, tick off the checklist together, and much more. The Preggers app offers everything you need to make your pregnancy as easy and organised as possible.
Knowledge bank
In the knowledge bank, you'll find loads of podcasts, videos, and articles written by experienced midwives, child nurses, and child psychologists. Get relevant information, tips, and advice that will help you throughout your pregnancy and the first years of parenthood.
Pregnancy workouts & pelvic floor exercises
The Preggers pregnancy app also offers simple and effective workouts tailored to your activity level during pregnancy and after giving birth. Perform safe and effective workouts to take care of your body as an expectant or new parent. The app also offers simple and fun pelvic floor exercises to strengthen your body.
Download Preggers today and start your journey towards an easier pregnancy and better parenthood.
More from Preggers
Read popular and relevant articles.